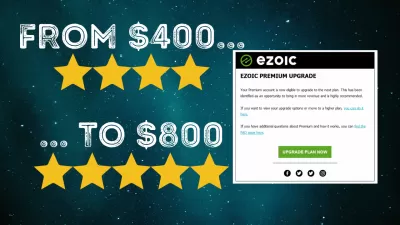 ---
---
When making money with content online, many possibilities are available. However, not all of them are the right fit for all content creators. Fortunately, there are solutions available that can help ensure that content creators receive the most earnings from their publications in every instance.
One of the platforms gaining attention among creators is the Ezoic platform, but what can it offer users to help increase their online marketing opportunities?
Full Ezoic review
Ezoic provides plans for different types of content creators, but it is the premium service that has become a hot topic among content creators.
What Is Ezoic Premium?
To appreciate the value of the  Ezoic Premium   upgrade (read our full  Ezoic Premium   review), users need to know how the platform works and the type of features it offers. The first thing to note is that Ezoic is not an ad network.
Ezoic uses machine learning, human expertise and its vast knowledge of ad networks to partner users with opportunities fine-tuned to their content, on top of other tools to optimize websites and content - all accessible free of charge and without any commitment.
Those already making money with the  Ezoic platform   may be wondering why they should pay a fee for using the platform if they join the  Ezoic Premium   program after having been invited to, but there are several benefits in doing so.
How to Qualify for Ezoic Premium
Although the  Ezoic Premium   plan is invitation only, the criteria to join Ezoic are straightforward. In most instances, Ezoic users must be active with Ezoic for three months or more or earn $50.00 in Ezoic revenue in their first month.
Once the criteria has been met, users will receive an invite for the  Ezoic Premium   upgrade. Of course, updating tiers can be overwhelming for first-time users. Fortunately, the  Ezoic Premium   upgrade provides users with a 14-day trial to ensure it is the right fit for them.
Improve Website EPMV Using the Ezoic Premium Upgrade
Website owners that have tried monetising their website using Adsense may have found minimal rewards, regardless of how informative and engaging the content is (see the benefits of Ezoic vs AdSense). Though Ezoic already aids website owners in growing their ad conversions,  Ezoic Premium   takes the concept to the next level.
Those using  Ezoic Premium   will benefit from high-end ad placements, allowing for a better return on investment. As such, you will earn more earnings per thousand visitors when compared to lower tiers or Adsense alone.
Furthermore, those paying a subscription fee can be confident that the earnings will surpass the amount paid, allowing content creators to keep 100% of their ad revenue.
Earn Maximum Revenue on All Websites
Although the prospect of one website increasing revenue is enough for many to consider a  Ezoic Premium   upgrade, users will obtain plenty of value for money as Ezoic can be used for all websites and blogs.
This allows those with a blog or website portfolio to maximize the value of their websites, although they will need to meet the criteria to benefit from Ezoic Premium.
How to Increase Traffic to Truly Benefit from Ezoic Premium?
To benefit from the  Ezoic Premium   upgrade, or any other ad network for that matter, is to have a steady influx of regular traffic. Search engine optimization is a broad term that can cover several elements of being found online. Still, there are steps that content creators should follow to ensure they're primed for success when using Ezoic Premium.
Create Longform Content that Is Informative
Many websites state that AI writing can quickly help create content, but this isn't always the right fit when monetizing your content. Any written content should be done by a human that can help or educate readers in some way.
In addition to ensuring content is optimized for regularly searched keywords, the content should also be in-depth and contain images and videos when relevant.
Although Ezoic can help increase income, the right content creation must be in place to ensure website and blog owners can acquire traffic. Content that explores the finer details will always fare better than articles that skim the subject matter.
Take Advantage of Ezoic Tools
When exploring the possibilities of the  Ezoic Premium   upgrade, it's easy to overlook the simple but effective tools in place to ensure that the right audience finds your content.
EZOIC LEAP
The EZOIC LEAP tool is available to all members of Ezoic but can be essential for those wanting to maximize their earnings using Ezoic Premium. Simply allow EZOIC LEAP to examine the Core Web Vitals of a website, and you will be met with several recommendations to help increase your ranking and engagement.
Ezoic Tag Tester
The Ezoic tag tester is another free tool that can be overlooked while optimizing content, but it helps ensure all users receive the best revenue possible, especially when opting for the  Ezoic Premium   upgrade.
The title tags are SEO titles, making them the first thing people see when searching for topics in your niche. The Ezoic Tag Tester allows users to A/B test their titles to ensure that CTR is increased and potentially improve search engine results.
Optimizing your content with Ezoic premium upgrades
When using these steps to optimize your website and content, you can be confident that you are primed for success when using Ezoic Premium.
The longer users engage with the  Ezoic platform   and make the necessary amendments as required, there will be higher tiers that allow premium users to increase their revenue further. Although the costs will increase, so too will the opportunity to earn.
 Ezoic Premium   is not a tool for those just starting out with content marketing, but the free option provides plenty of tools and training segments to help fine-tune your website for future consideration.
However, if you already generate a lot of traffic and are searching for a platform that can offer bespoke ad placements based on your industry and several tools to help improve your current SEO ranking, the  Ezoic Premium   should be considered.
 Ezoic Premium   does not requires a lot of work from the website owners to reap all the rewards of the platform, and those willing to take advantage of all the features on offer can be guaranteed of online success and higher earnings, far beyond the cost associated with hand-picked premium advertisers, as they are paying a higher price to get their ads displayed on your premium websites.
Frequently Asked Questions
What are the EzoicAds Premium fare requirements?

The main requirements of the EzoicAds Premium plan are your activity in Ezoic for three or more months or earning $50 of Ezoic income in the first month. But it is worth remembering that an invitation is required to switch to this tariff.

Is Ezoic Ads Premium suitable for beginners?

Ezoic Premium is not a tool for those just getting started with content marketing, but the free option provides a variety of tools and tutorial segments to help set up your website for further consideration.
---
---