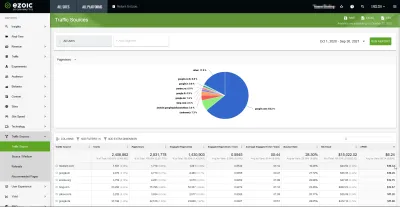 ---
---
Traffic sources are the channels through which visitors come to a website. As you know, it is the number of visitors that is one of the main indicators of the success of the project. The more of them, the higher the likelihood of achieving your conversion goal. Knowledge of where to effectively attract customers, as well as high-quality analysis of traffic sources will help to increase the traffic indicator.
What are the sources of traffic? There are several of them.
Search source.
Such a source is considered when visitors went to the site through natural search results for a keyword. This type is the most valuable and desirable for many marketers, as it is the result of difficult work - search engine promotion of the resource among thousands of competitors. How do I get it? Increase the rating of your portal, achieve high ranking by its search robots. It's not easy, in every sense expensive, but worth it.
Search source: how to add a site to Google for indexing?
Referral.
These are clicks on links from other resources. For example, from those where you left banner ads, or comments with a link to your resource, or if you are registered in any database, you can continue indefinitely.
Drive referral traffic to your websites with Push notifications
Drive referral traffic to your websites with videos on your Youtube channel
Direct traffic source.
These are visits from regular readers who have subscribed to your blog updates or bookmarked the resource. Let's call them regulars of your portal. Of course, such leads will not appear immediately, newcomers simply cannot have them (if they do not attract friends, relatives), but you need to strive for the emergence of targeted traffic, this guarantees stability.
Write great articles to create an audience and drive direct traffic
Social.
One of the most relevant, and as you might have guessed, it comes from various social networks. By posting announcements and other links to your own Facebook group or to any other platform, you attract new visitors to your site. That is why it is worth remembering always about the complex promotion of the project.
Create a Facebook business page to drive social traffic to your websites
Use your Instagram accounts to drive social traffic to your websites
Advertising traffic source.
Generates leads by placing advertisements of various kinds. This can be a display type of advertising, contextual links, a teaser. Here you can also conditionally add leads from affiliate programs, which are very relevant as sources of traffic for an online store.
Drive traffic to your websites through advertising
If you have your own website, then you probably want to know where your visitors come from. Ezoic has a great product for this - Big Data Analytics. With this service, you can view literally any statistical information, including traffic sources.
In order to find exactly the analytics by traffic sources, you need to do the following:
Log in to your Ezoic account;
In the left side menu select the button Traffic sources;
In the drop-down list, click on Traffic source.
After completing these steps, the website owner will see a beautiful colored pie chart in front of him, which will be labeled with various traffic sources. Visually, it will be immediately clear where the traffic came from the most, but also under the diagram there will be a detailed table with more specific and understandable data for analytics.
Chart overview
Before starting to review the diagram, I would like to note that all the data given in this article is just an example, for each site owner they will and should be different. This is just a guide on what to look for when analyzing your website, as well as in order to understand what needs to be done in order to increase the flow of visitors to your website.
What the table below the diagram includes:
It is a social network, a kind of space for personal blogs, and a platform for creating and managing third-party publications. With Medium, you can get traffic for free.
This site is a kind of analogue of the Russian Yandex Zen. The published material can be anything - both a small note and a full-size article.
Most of the articles are freely available, but some are only available for a fee. The Medium has its own rules for side projects:
You need an active link to the project domain in your account data;
The email address must be linked to a domain;
The address must be verified by the social network and remain active;
You need to link to another social network (Facebook or Twitter) with the same domain;
There must be a page with up-to-date contact information;
Only one e-wallet address can be specified in one publication.
More and more organizations are using Medium as a tool to drive traffic to their sites, as 170 million users interact on the social network. The site itself receives over 220 million visitors per month.
Now let's move on to data analytics from the table. Visits to this traffic source are equal to 1 thousand 501, which is 0.06% of the total. Page views for this source are 1 thousand 778, which is also 0.06% of the total number of visits.
Another important parameter in this analytic table is the pageviews involved. For this traffic source, the indicator is 1 thousand 282, which is 0.09% of the total indicator.
The average page load / visit time is 01:12, which is higher than the average time shown. The failure rate is only 16.26%, which is the best indicator among the sources presented, and it is also much lower than the indicated average value for this parameter.
As for the income, it was $ 24.50, which is 0.16% of the total income.
The EPMV for this source is $ 16.32. This is a very good indicator - it is above average, as well as above all the results shown in the table for other traffic sources.
Google does not need a special introduction, so you can immediately start reviewing the information on this source.
Visits are equal to 4 thousand 073, which is 0.17% of the total number of visits. Page views are about the same in terms of 4,710, which is also 0.17% of the total page views. Engaged page views are equal to 2,466, which is also 0.17 percent of the total engagement rate. The average download / visit time is 00:47, and in this table, this is the worst result for this criterion.
The bounce rate is very high - 27.72%, this traffic source is in second place in the table. The income is $ 66.35, which is 0.44% of the total income. The EPMV for this traffic source is $ 16.29.
This is a very interesting browser project, in other words, a search engine with which you can help in planting trees. In order for the user to plant one tree, through this system he needs to perform 45 requests for information retrieval. Ecosia devotes 100% of its profits to fighting climate change as well as planting trees. The search team regularly publishes financial reports and updates on tree planting projects.
Visits for this traffic source are 3,754, which is 0.16% of the total visits. Page views are 4 thousand 261, which is 0.15% of the total number of page views. The page views involved are equal to 3,079, of the total number of involved page views is 0.22 percent.
The average page load / visit time for this traffic source is 01:08. This is a good indicator, since it is significantly higher than the average for this parameter. The failure rate is 22.88%, which is below average and a very good figure from the table.
The income is $ 47.85, which is 0.32% of the total income. EPMV is $ 12.75.
It is a search engine launched by Microsoft in 1998. In the CIS, the search engine is little known, and in Russia it is being replaced by Yandex. In Russia, Bing is used by only 0.5 percent of the entire audience.
However, in the US Bing is chosen by 31% of the population, in China - by 18%; in Europe - 6%. More than half of the audience are users over 45, which makes them promising potential customers.
Correct work with this search engine can bring traffic with a minimum bounce rate and high depth of views. Users coming through Bing:
Spend more time exploring the site;
More often subscribe to email newsletters and leave contact information;
More people follow referral links.
This search source of traffic has the highest traffic indicator in the table - 63 thousand 293, of the total percentage of visits it is 2.63%. Page views also have good indicators - 75 thousand 786 visitors, of the main mass this is 2.68%. Engaged page views - 52 thousand 367, this is 3.66% of the total.
The average page load / visit time is 01:10, which is also a good indicator, which is above the average shown in the table. The failure rate is 22.46%, which is slightly below average.
The income is $ 802.23, of the total earned in this example it is 5.34%. EPMV is $ 12.67.
It is the second most popular search engine in the world. It represents a number of services, united by one Internet portal.
Visits for this traffic source are equal to 3,223 thousand, of the total figure it is 0.13%. Page views - 3 thousand 934, of the total for this value is 0.14%. Engaged page views - 2,677, of the total engagement rate is 0.19%. The average download / visit time is 01:09.
The bounce rate is one of the lowest at 20.17%. Income is equal to $ 36.09, which is 0.24% of the total earned, this is practically the lowest result in the table. EPMV is $ 11.20.
As mentioned earlier, Google's search engine needs no introduction, so let's go straight to analytical data.
Attendance for this indicator is also one of the highest - 37 thousand 194, which is 1.55% of the total number of visits. Page views - 42 thousand 516, which is 1.50% of the total traffic.
Engaged page views - 23,829, of the total, this is 1.67%. The average page load / visit time is 00:51, which is above the average.
The failure rate is the highest in the table at 28.65%. The revenue for this traffic source was $ 412.10, which is 2.74% of the total revenue.
The EPMV for this traffic source was $ 11.08, the lowest in the table.
From all this body of information, it can be concluded that a good website owner should target all possible traffic sources and different browsers and search engines.
Information from the diagram can be systematized by indicators:
64.2% - google.com
17.3% - other;
7.3% - unknown;
3.6% - android.googlequicksearchbox;
2.6% - bing.com;
1.5% - google.de;
0.9% - google.fr;
0.9% - yandex.ru;
0.8% - google.it;
0.8% - google.co.th.
These indicators are correct and relevant only for a specific site. If you are interested in analytics for your site, you need to register in the Ezoic system, then there will be actual data on your site, which can already be analyzed for a specific case and situation.
Big Data Analytics from Ezoic
Ezoic Big Data Analytics is an innovative product that can analyze literally any information and parameter for any particular website.
All data is organized in such a way that sites can act and owners can make decisions. With Big Data Analytics, you can see how everything from infrastructure to audience impacts bottom line. Also, profit is influenced by various changes, content and investments. All of this is changing audience behavior, and with Big Data Analytics it can be easily seen.
In Ezoic Big Data Analytics, in the left sidebar, you can find a huge number of items from which you can get valuable information about the website. You can even find out how much income the site is receiving in real time.
---
---